Listen to various voices in the public policy world discussing potential solutions to important policy challenges, be they about health, the economy, the environment, or other societal problems impacting families in your community or across the globe.
The podcast series is a production of the Dean's Brand Ambassadors of the UCR School of Public Policy.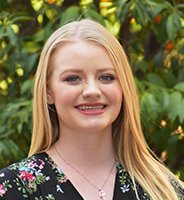 Meet Your Host
Maddie Bunting hosts Policy Chats, the SPP podcast series. She is currently an undergraduate public policy major at UCR with an emphasis on policy institutions & processes and international / foreign policy. Maddie is Dean's Chief Ambassador and Public Affairs Student Assistant at the SPP.