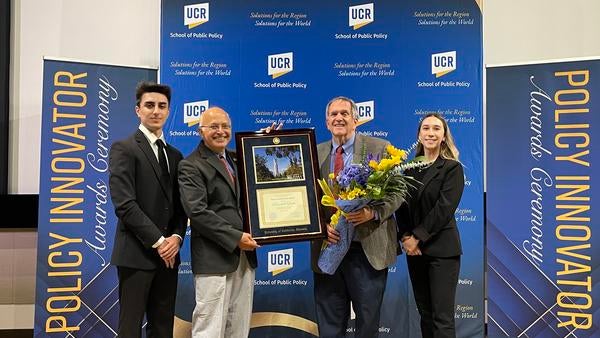 On Thursday, September 30th at 5:30 p.m. PDT, the UCR School of Public Policy will hold a virtual awards ceremony honoring two figures who have contributed to policy innovation in the Inland Southern California region and beyond. The event also serves as a fundraiser for UCR public policy students.
Randall Lewis, the Executive Vice President of the Lewis Group of Companies, will receive the Policy Innovator Award. Lewis's work has focused on education, healthy living, and sustainable development initiatives.
"Over the last few decades, Randall Lewis has played a crucial role as a concerned citizen and private entrepreneur in heightening awareness of and affecting sustainable development of the Inland region through innovative partnerships among local governments, private industry, universities, and nonprofit organizations," said Anil Deolalikar, founding dean of the School. "Additionally, he has been an institution builder in the Inland Empire, having supported the establishment of several educational initiatives. He supported the erstwhile UCR Center for Sustainable Suburban Development for over a decade and is a founding sponsor of UCR's Inland Center for Sustainable Development. Over the years, our public policy students have benefited greatly from the Randall Lewis Health Policy Fellowships that bring experiential learning opportunities in public health to students. We are thankful to Randall for his numerous contributions to the community, to UCR, and to the School of Public Policy."
Jesse Melgar, who was a graduate of the school's inaugural Master of Public Policy cohort, will receive the Emerging Policy Leader Award. He is the Director of Engagement for the California 100, a policy initiative devoted to "inspiring a vision and strategy for California's next century."
"Jesse Melgar is clearly a rising star in the realm of public policy in California," said Deolalikar. "Not many young people can say they have worked for then-State Senator Ricardo Lara, then Secretary of State Alex Padilla, and Governor Gavin Newsom. As a graduate of our MPP program, he exemplifies the qualities of an emerging policy leader -- idealistic, socially conscious, and committed to public service. We are proud to name him an Emerging Policy Leader."
To learn more about the honorees, visit here.
The evening will also consist of pre-recorded remarks from U.S. Senator Alex Padilla, California Governor Gavin Newsom, Assemblymember Sabrina Cervantes, State Senator Richard Roth, and former Mayor Ron Loveridge, to name a few.
Registration is now open for the virtual event. One RSVP grants admission for up to 4 guests on one device. UCR public policy alumni get special pricing of $100 for registering. Sponsorship opportunities are also available.
--
Established in 2012, the UCR School of Public Policy is one of only four public policy schools in the 10-campus UC system. It is home to the only Master of Public Policy (MPP) program offered by a major research university in inland Southern California, as well as the only undergraduate public policy program in the ten-campus University of California system.
Media Contact:
Mark Manalang